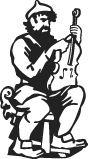 Student or professional
violin, viola, cello or double bass:
Everything you need in string instruments right in Munich's city centre
---
Combining two generations of master violin makers/luthiers and more than 70 years of experience in building, repairing and restoring fine string instruments, we provide professional advice and expertise, whether you are aiming to rent a students' set or to buy a professional instrument.
We build new instruments and sell old, new and baroque instruments; we offer bows and cases in different qualities, strings and other accessories. Violins, violas, cellos and double basses can all be played in the quiet atmosphere of our music chamber. Come visit our family-run workshop close to Isartor and take a look at fine traditional craftsmanship.
---
Two generations of master violin makers/luthiers
As an instrument the violin connects past and present, and so do we in our work as violin makers.
Our family's ancestors were building temper pins and end pins for string instruments as early as the 19th century, and now the family's name Michael stands for two generations of master violin makers in the heart of Munich. Combining more than 70 years of experience in violin making ensures fine craftsmanship and excellent sound quality. Winfried Michael set up the workshop and has shaped it for more than fourty years.
---
---
Geigenbau-Michael a Reportage
Read here the reportage about our violine workshop – published on 10.04.2014 in the Abendzeitung.
---
How a Violine is build
A contribution about the creation of a violin and the challenge of violin making. A report on violin maker Marion Michael on www.alle-noten.de. View the article.